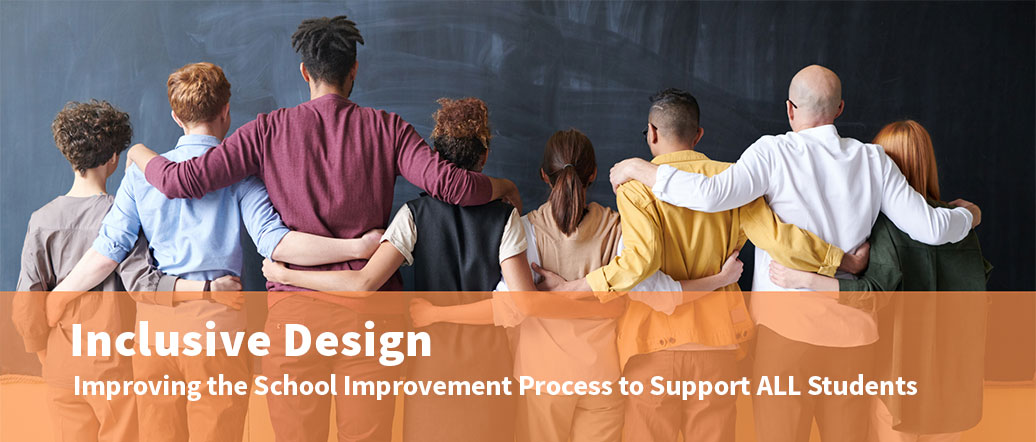 Who?
This series of professional learning opportunities is offered to principals and vice-principals who are interested in utilizing Inclusive Design as a process to support school improvement practices.
What?
Through this series, participants will work toward the following goals:
become familiar with Inclusive Design

build critical thinking and pedagogy necessary as the underpinnings for Inclusive Design Work

utilize Inclusive Design as a process to support School Improvement practices and challenge and change achievement and well-being disparities

develop a reflective community of practice to do ongoing Inclusive Design work in their schools and

receive ongoing peer support for colleagues as they implement inclusive design in schools
Offerings
Six Threads of Inclusive Design - Level 1
2023-24 Program Dates
Initial Training Sessions (1.5 Days)
Friday, October 20 from 8:00 a.m. - 11:30 p.m. EDT
Saturday, October 21 from 8:00 a.m. - 2:00 p.m. EDT
2 Subsequent Sessions (2 Full Days) from 8:00 a.m. - 2:00 p.m. EST
Saturday, November 25
Saturday, January 20
Final Session (1/2 Day) from 8:00 - 12:00 p.m. EST

Cost:
Members and Associate rate $988 + HST
Non-member rate $1,612 + HST
*Please note the following:
Registration closes Friday, October 6, 2023
You are signing up for all virtual session dates.
This program will run on sufficient enrollment. We will notify you after registration closes to confirm and send a Zoom Meeting link for you to access the sessions.
There are no assessments or formal completion criteria for this program. If you have any questions, feel free to contact learning@principals.ca.
Inclusive Design - Going Deeper - Level 2
This series of professional learning opportunities is offered to principals and vice-principals who have experience with the concept of Inclusive Design and are interested in going deeper with their application to support school improvement.
Not currently being offered.
Terms and Conditions
Refund Policy
A full refund is available if you cancel up to two weeks before the start date, less a $50.00 non-refundable registration fee.
A $250.00 refund is available if you cancel one week before the start date.
There is no refund for cancellations after the start date.
A full refund applies when a session is cancelled due to low enrollment.
Interpretation Services Terms and Conditions
The Ontario Principal's Council (OPC) is committed to accommodating the individual needs of our Members, in accordance with the Accessibility for Ontarians with Disabilities Act and the Ontario Human Rights Code. Once a candidate has registered and paid the applicable registration fees for a course, the OPC will contract with an interpretation service of its choosing and will cover the fees and expenses related to interpretation services in accordance with its contract arrangements with the interpreter. The candidate is welcome to provide a list of preferred interpreters for us to consider, but OPC retains the discretion to choose the provider of these services.

As the OPC is required to comply with the cancellation policy specific to each independent interpreter, it will communicate the cancellation policy to the course candidate in writing. A candidate seeking to cancel their participation in an OPC course must comply with the interpreter's cancellation policy and be respectful of the associated timelines. Candidates will be held responsible for cancellation fees applied as a result of missing timelines for cancellation.

OPC's standard refund policy will also apply to all cancellations.