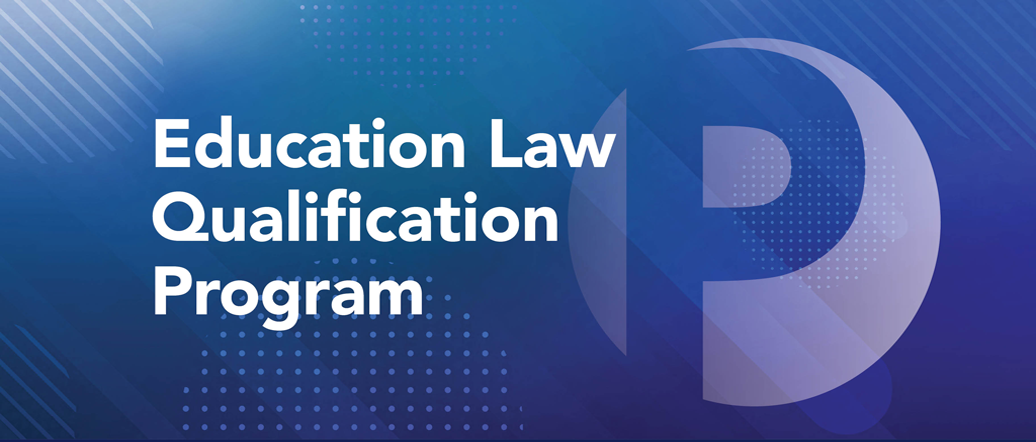 Overview
Our Education Law Qualification Program (ELQP) includes the statutes that inform education in Ontario from the federal level to the board and school levels with an emphasis on
a principal's accountability
laws
policies and
regulations.
It uses a case-study approach and is supported by a variety of resources including
case law reviews
expert presenters
external legal websites and
our Protective Services resources.
Members of the Ontario College of Teachers (OCT) in good standing can take this course.
Module Information
Module 1 - Legal Contexts
Ensuring Procedural Fairness
Examining Regulation 298: How important are the details?
From Paper to Practice: Education law in Ontario
How Does an Idea Become a Law?
Legal Concepts
The Education Act and Regulations: Who does what?
The Law and Politics
Module 2 - Management of Schools
Behaviour and Performance: Understanding the difference
Collective Agreements / Terms and Conditions
Employment Law
Performance Appraisal
Regulating the Profession: What is the public interest?
Module 3 - Rights of Students and Employees
Child Protection
Equality versus Equity
Privacy and Information Management
Safeguarding against Injury
The Ontario Human Rights Code (OHRC)
Module 4 - Safety and Health
Disability and Wellness
Educational Law – The complexity
Health and Safety
Safe Schools
Understanding Legal Liability
Workplace Violence and Harassment
A minimum of 125 hours is included in the course.
Qualified candidates can apply to Charles Sturt University (CSU) for inclusion of this Additional Qualification (AQ) as a prior learning credit towards the Master of International Education (School Leadership) or Master of Education degree.
Course Fee
$900.00.
Includes all four modules and a $50 non-refundable registration fee.
Upcoming Sessions
Registration deadlines are firm.
Fall 2023 - Online
October 01, 2023 - December 15, 2023
Module 1 - October 01 - October 16
Module 2 - October 17 - November 05
Module 3 - November 06 - November 25
Module 4 - November 26 - December 15
Registration deadline: September 23
Spring 2024 - Online
March 18, 2024 - May 31, 2024
Module 1 - March 18 - April 02
Module 2 - April 03 - April 21
Module 3 - April 22 - May 11
Module 4 - May 12 - May 31
Registration deadline: March 02
Online module dates are guidelines. There is flexibility to meet the needs of candidates. Course work is expected to be completed by the end date for each session.
Board Partnerships
It is a priority for us to develop, provide and support a variety of relevant, accessible and locally customized professional learning opportunities, based on diverse Member needs, feedback and job demands. For those looking to offer this program in your board, we can customize most of our programs and learning sessions to the unique characteristics of each district upon request. Email us to offer the ELQP within your Board.
Terms and Conditions
Academic Integrity
All candidates participating in our Additional Qualification Programs must review and comply with our academic integrity and engagement guidelines.
Refund Policy
A full refund is available if you cancel up to two weeks before the start date, less a $50.00 non-refundable registration fee.
A $250.00 refund is available if you cancel one week before the start date.
There is no refund for cancellations after the start date.
A full refund applies when a session is cancelled due to low enrollment.
Interpretation Services
The Ontario Principals' Council® (OPC) is committed to accommodating the individual needs of our Members, in accordance with the Accessibility for Ontarians with Disabilities Act (AODA) and the Ontario Human Rights Code. Once a candidate has registered and paid the applicable registration fees for a course, the OPC will contract with an interpretation service of its choosing and will cover the fees and expenses related to interpretation services in accordance with its contract arrangements with the interpreter. The candidate is welcome to provide a list of preferred interpreters for us to consider, but OPC retains the discretion to choose the provider of these services.

As the OPC is required to comply with the cancellation policy specific to each independent interpreter, it will communicate the cancellation policy to the course candidate in writing. A candidate seeking to cancel their participation in an OPC course must comply with the interpreter's cancellation policy and be respectful of the associated timelines. Candidates will be held responsible for cancellation fees applied as a result of missing timelines for cancellation.

OPC's standard refund policy will also apply to all cancellations.