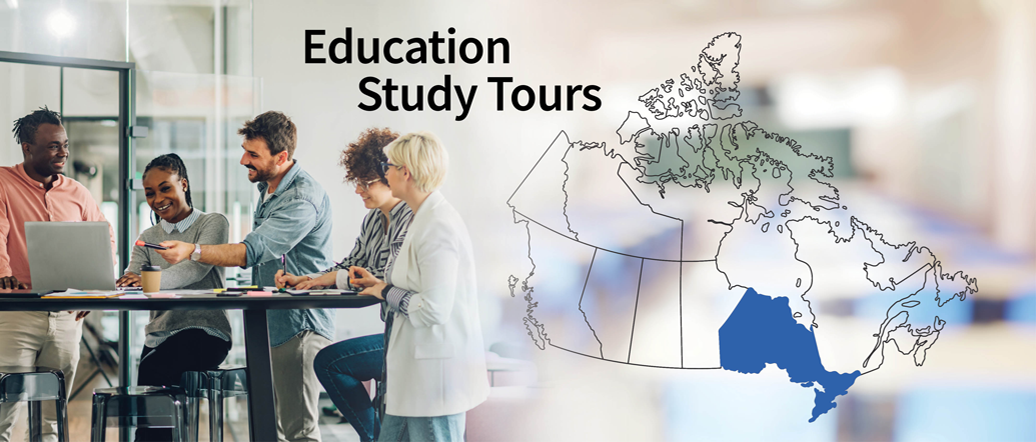 Explore, Experience, Share
Education study tours are aimed at educators and school and system leaders who wish to understand and gain insights from the Ontario experience to improve student well-being and engagement within their own contexts. The tours provide an opportunity to learn about the Ontario education system at all three levels: school, district and Ministry of Education. Participants will gain an understanding of the alignment and focus of the Ontario school system and our continued journey towards greater equity, inclusion and excellence in public education.
Participants will experience
the delivery of effective practice in our schools
collaboration and sharing with colleagues to build professional learning network
a renewed focus and professional learning to improve student well-being and engagement in their own locations and contexts and
the opportunity to explore Ontario's sights and cultures.
Tour Overview
Education study tours are typically five days in length but can be modified to meet your group's needs. The tours are provided as customized programs.
Tour components may include
Most study tours are hosted at the Ontario Principals' Council (OPC) offices in beautiful downtown Toronto and most of our school visits are arranged with the Toronto District School Board (TDSB), however, we have access to other districts in the province to meet your group's needs.
Areas of Focus
Ontario Leadership Framework (OLF) – Five Core Leadership Capacities
What does effective leadership in Ontario look like? The Ontario Leadership Framework (OLF) supports school and system leaders by identifying leadership practices to guide individual leadership development. The OLF has been used across the province as a tool for reflection and five core leadership capacities have been identifies as integral to effective leadership public education.
Study tour workshops are framed around the five core leadership capacities with an equity and anti-oppressive lens to provide visiting educational leaders with an array of learning options. Through active engagement and collaboration, participants will gain insights into the Ontario education system, provincial landscape and make valuable connections that will impact personal leadership growth strategies.
Possible Workshop Options:
How is Leadership defined in Ontario?
The Ontario Leadership Framework (OLF) – Participants will be guided through the domains of leadership and the five core leadership capacities for school leaders in Ontario. From an equity lens, the importance of understanding how school and system leaders must be responsive to the diverse nature of students and communities will be discussed. Effective practices and personal leadership resources will also be examined within the context of school improvement planning.
Professional collaboration and engagement in purposeful and collaborative learning walks
This workshop will explore Ontario's Professional Learning Framework for the Teaching Profession and its guiding principles that are founded on the ethical standards and standards of practice for the teaching profession. Participants will identify key strategies to support authentic professional engagement and collaboration that supports school improvement and continuous learning.
What matters right now? – Hot topics in Ontario
Topics for this workshop will be selected based on current provincial issues and interests of the visiting group. Topics could include: inclusive education, human rights and equity, health and safety in schools, etc.
Ontario Principals' Council (OPC): Supporting Exemplary Leadership in Public Education
OPC is the voluntary, professional association representing practising principals and vice-principals in Ontario's publicly funded schools. Participants will learn more about OPC's structure and the broad range of supports and learning opportunities offered to its Members within the Ontario system.
Professional Learning Communities (PLC)
Participants will have the opportunity to engage in some authentic activities of a PLC. They will be exposed to a variety of data sources to identify a learning need and discuss strategic approaches to build awareness, implement and monitor improvement and growth to support student well-being and achievement.
Teacher Learning and Collaborative Inquiry
Increasing staff capacity is essential to improved student learning. Grounded in an open-to-learning stance, the effective administrator needs to strive to learn along with their staff to increase their own capacity as an educator. The lead learner approach will help pave the way for improved learning among staff and ultimately students.
Using qualitative data from teachers to create a culture of learning - Teacher Performance Appraisals (TPA)
Participants will become familiar with the Teacher Performance Appraisal (TPA) process that is a legislative requirement in Ontario. Collaborative discussions will focus on how the TPA process can be used to as an effective tool to build relationships and develop people.
What data and why?
This workshop will critically review traditional data sources from an equity lens. Participants will engage in discussion of how student and family voices and listening to the stories of their school experiences can inform and transform school cultures into anti-oppressive spaces of deep, meaningful learning that embraces the unique diversity of our students.
Inclusive Schools – Where are we in Ontario?
Equity and inclusive education aims to understand, identify, address and eliminate the biases, barriers and power dynamics that limit students' engagement in learning, their growth and ultimately their future pathway to be fully contributing members of society. Participants will explore Ontario's journey in equity and inclusive education and discuss the relevant issues and challenges facing school leaders today. Potential focus areas:
Gender equity

Anti-racism

Neurodiversity
How do leaders develop their most valuable resource – people? - Foundations of Mentorship
Participants will explore the foundations of an effective mentoring/coaching program for principals and vice-principals with consideration given to identities, lived experience and leadership values.
Don't see your topic of interest here? Contact smarshall@principals.ca for further workshop inquiries.
Group Pricing
The price for a five-day study tour is shown in the chart below:
| | |
| --- | --- |
| Size of Group | Price (including tax in CAD) |
| 30-34 | $ 11,865 |
| 25-29 | $ 11,020 |
| 20-24 | $ 8,930 |
| 15-19 | $ 6,780 |
| Under 15 | $ 6,330 |
The price covers the cost of the customized program, including presenters on the OPC roster, some meeting space and visit fees. Participants are responsible for their own accommodations, transportation, tourist activities and catering. A tour coordinator will assist the group in making these arrangements if necessary. If a group would like us to book speakers and experts outside of our roster, we can do so and would add the fee to the invoice.
A 10% discount to tours over 20 people will be applied for those who are repeat clients.
For small groups or groups larger than 35, please email smarshall@principals.ca for pricing information.
Visa Information
All prospective study tour participants must check the Government of Canada's website to determine if an Electronic Travel Authorization (eTA) or a visitor visa is required to participate in the study tour. It is recommended each participant apply as early as possible to ensure the necessary travel documents are received well in advance of the study tour and to avoid any possible processing delays.
Most travelers coming to Canada will require a visa or an Electronic Travel Authorizationto visit. To find out if you have travel document requirements, visit the Government of Canadawebsite and use the find out if you need a visatool.
The OPC will provide visa invitation letters for a visa application to enter Canada to participants who require a visa, provided the organizer has complied with the collaboration agreement with OPC. Requests with incomplete information will not be processed. It is the responsibility of the group organizer, in collaboration with the participants to review visa requirements and plan timelines as appropriate. The OPC does not advise on the visa requirements and processing, and cannot intervene with government officials at any point during the process.

Please note that receipt of a letter of invitation does not guarantee a visa or other travel document will be issued by the Government of Canada, which has the final say in all decisions regarding visas and travel documents.
Visa Supporting Documentation
If you have booked as a group and all participants require a visa, get in touch with your tour coordinator to have any documentation you require prepared.
If you have any additional questions or are looking to arrange a study tour for your group, contact smarshall@principals.ca and get started today!
Our Location
20 Queen St. West
Suite 2700 P.O Box 7
Toronto, Ontario, M5H 3R3
Tel: +1 (416) 322-6600
Contact: international@principals.on.ca
View on Google maps
Subscribe to this Page