The Ontario Principals' Council (OPC), representing public school leaders throughout the province, will host this pivotal event. Collectively, we will develop a vision for the future of K-12 education in Canada. The purpose of this Summit will be to identify key challenges and potential solutions related to education across Canada, with a broad vision for future ready students to which all Canadians can aspire with a focus on leadership, anti-oppression and anti-colonialism. Representatives from across Canada with a vested interest in education will participate and join the conversation. #CanEdSummit

Reach a broad audience! This is your opportunity to make valuable contacts, develop relationships, strengthen your brand and build recognition for your company. No other event in Canada in 2023 will provide such a unique opportunity with such a large-scale number of key decision makers in a single setting.
Over 400 representatives will attend with a vested interest in Education.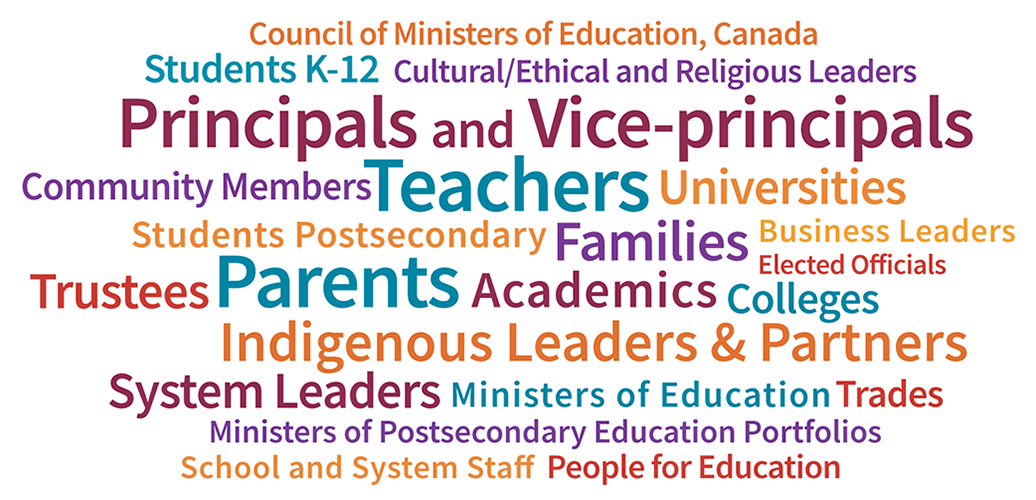 Depending on your chosen level of sponsorship, there are a number of advantages to sponsoring this event.
Be a part of the conversation – sponsors may have a reserved seat at the Summit to share their ideas about improving public education. These conversations will move us forward to continued quality public education that is responsive to the changing needs of Canadian society.
Impact and Reach – A paper summarizing the recommendations will be published following the event to continue the conversation with stakeholders and school systems across Canada. The paper is intended to become a conversation starter that will lead to positive changes. Gold and platinum level sponsors' logos will be included in the report.
Social Credibility – This is an opportunity to support social change through education. Your organization will position itself as a supportive member of the community and gain more credibility which can attract more interest and revenue for your business.
Size – The largest leadership event of its kind for 2023, we are looking to attract between 400-1000 participants in attendance. It's an opportunity to connect with hundreds of high-level educational leaders.
National Networking – Opportunities to collaborate and share practices that will enhance outcomes for the future of education and for the well-being of students. An expanded reach and exposure to an audience, including educational leaders in Canada which you may not easily have access to.
Brand Awareness and Competitive Advantage - Exposure to potential new clientele that could provide a competitive advantage. Through your support, your brand will be recognized by both local and national communities that will increase your corporate visibility and exposure.
Exposure - Your investment matters. In exchange for supporting the event, companies can get their name or logo on the following

OPC Twitter to spread awareness to over 16,000 followers

dedicated sponsor page on our website

thank you ad released in the The Register magazine

event signage and

event app.

This opportunity will define your place in the education market!



Every effort will be made to ensure that sponsors are provided with exposure, direct marketing and brand awareness opportunities with participants and decision makers.
Level

$50,000 and up




$25,000 – $49,999




$15,000 – $24,999




$5,000 – $14,999

Supporting student Summit participation

Registration, travel & hotel per student & chaperone (approx. $3,000)


four students and chaperones


three students and chaperones

two students and chaperones

one student and chaperone

Company name and logo in Summit communications

(in descending order of opportunity level)

Company name and logo on Summit webpage

(in descending order of opportunity level)

Company name and logo listed as designated sponsor in The Register magazine

Name and logo displayed on overhead screens

before all plenary sessions

before 2 plenary sessions

before 1 plenary sessions

before 1
plenary sessions

Verbal recognition during the Summit

at opening and closing

at opening

at closing

Promotional signage at meals and nutrition breaks

at all meals/breaks


at 1 lunch

at 1 nutrition break
Discounted advertising in The Register magazine

4 issues during the 2023/24 year

2 issues during the 2023/24 year

1 issues during the 2023/24 year
Advertising space in the Summit smartphone app

full-screen ad

1/2 screen ad
Promotional piece on delegate tables once during the Summit
Promotional signage in hotel at registration area
Company name and logo in publicly published Summit paper
Free seat at the Summit

2 seats

1 seat

Seat at discussion panel

1 seat

Company name and logo on name badge

*To those looking to invest less than $5,000 or to provide an in-kind service (i.e. printing name badges) for this event, please contact us directly at Summit2023@principals.ca.
---
25th Anniversary Gala Dinner Sponsorship
Additional Sponsorship opportunities are available for the Ontario Principals' Council 25th Anniversary Gala Dinner on April 2, 2023 at the Fairmont Royal York Hotel.