Human Trafficking Prevention: Building Awareness in School Leaders (HTA) is a project designed to develop and implement human trafficking resources and webinars. Its purpose is to advance the knowledge of principals and vice-principals and to enhance empowerment supports for at-risk youth populations and survivors of human trafficking.
Resources have been developed by the Catholic Principals' Leadership Development of Ontario, Leadership en action and Principal Association Projects, the service partners for Catholic Principals' Council of Ontario (CPCO), L'Association des directions et directions adjointes des écoles franco-ontariennes (ADFO) and Ontario Principals' Council (OPC), in partnership with Victim Services Toronto (VST). The project is funded by Women and Gender Equality Canada.
Resources
Infographic
Human Trafficking Awareness Infographic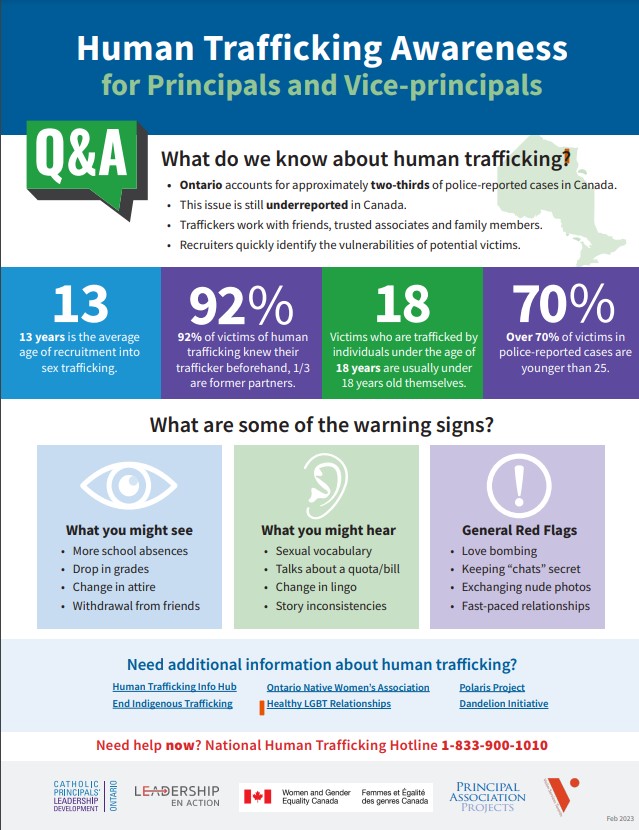 Human Trafficking Awareness Infographic
Description: Downloadable flyer for schools with statistics, warning signs, and contacts to get help and to access online information.
Question and Answer
What is human trafficking?
National definition
In their National Strategy to combat human trafficking 2019-2024, the Government of Canada defines human trafficking as "recruiting, transporting, transferring, receiving, holding, concealing, harbouring, or exercising control, direction or influence over that person, for the purpose of exploitation, generally for sexual exploitation or forced labour."
Provincial definition
Ontario's Anti-Sex Trafficking Plan for School Boards (definitions)
Human trafficking refers to the control over and exploitation of an individual, most often for sexual exploitation. It is one of the fastest-growing crimes worldwide. It is predatory and devastatingly damaging to victims, survivors, their families and communities.
Sex trafficking is a form of sexual exploitation and is a crime under the Criminal Code of Canada. It can include luring, grooming, recruiting, harbouring, transporting, obtaining or providing a person for the purpose of sex. It involves the use of force, physical or psychological coercion or deception.
What do we know about human trafficking?
Statistics from the Ontario Anti-Human Trafficking Strategy 2020-2025
Ontario accounts for approximately two-thirds of police-reported cases in Canada.
26% (1 in 4) of victims in police-reported cases are under 18.
97% of victims of human trafficking are women and girls.
92% of victims of human trafficking knew their trafficker beforehand, 1/3 are former partners.
The age of recruitment is generally 12 to 14 years old.
Key Findings
The average age of recruitment into sex trafficking is 13 years old.
It is well known that the information about this issue is still underreported in Canada.
Female traffickers usually work with at least one male. This partnership is sometimes relationship-based.
Traffickers who are under the age of 18 years commonly work in partnership with adults.
Victims who are trafficked by individuals under the age of 18 years are usually under 18 years old themselves.
Canadian victims are typically female, white, between the ages of 14 and 22 years old.
In recent years, individuals with relatively stable backgrounds are increasingly becoming victims of human trafficking.
Trafficking always requires coercion by a third party.
In approximately 50 per cent of specific cases of domestic human trafficking for sexual exploitation, traffickers are associated with street gangs. However, research does not indicate that human trafficking is an organized street gang activity.
Traffickers work with friends, trusted associates, family members, boyfriends/girlfriends or other females involved in prostitution.
How does human trafficking happen?

(How does a trafficker lure someone into being trafficked? – End Indigenous Trafficking)
Luring: The sex trafficker can be a stranger, someone you know or someone connected to you through your social network. They may suddenly be very interested in you and say nice things, pay attention to you, take you out and spend money on you. This is referred to as love bombing.
Grooming: The sex trafficker may act like a generous boyfriend or friend, make you feel amazing and adored, get you used to a new lifestyle and spend money on things like lingerie, accessories and new clothes. They may also try to get you to look older or sexier and push your boundaries by asking you to try out things that are risky, like taking nude selfies.
Isolation: The sex trafficker may try to cut you off from your friends and family and make you feel like they are the only person who cares about you. This helps them control you.
Manipulation: At some point, the sex trafficker will ask you to do sexual things to pay back the money that has been spent on you, to maintain your new lifestyle or to earn money for your future together. The sex trafficker may also tell you they owe someone money and something bad will happen to them if you don't do what they want.
Threats: The sex trafficker may try to coerce you into sex by threatening to expose the things you've done in order to humiliate you. They may also threaten to hurt you or someone you care about.
Exploitation: The main goal of the sex trafficker is to exploit you by making you engage in sex with other people in exchange for money. This is different from sex work, where the person is over 18 and legally able to consent.
Recruiting: Includes proactive targeting of vulnerability and grooming behaviours.
What are the THREE ELEMENTS of human trafficking?
ACT + MEANS + PURPOSE = Human trafficking
ACT

MEANS

PURPOSE

The trafficker must commit one or more of the following acts:

recruit
transport
transfer
harbour
receive
give/receive benefit
control

Using one or more of the following means:

violence
threat of violence
coercion
abduction
fraud
deception
abuse of power or position of vulnerability

For the purpose of exploitation in one or more of the following forms:

sexual exploitation
forced labour
slavery
servitude
organ removal
forced labour or services
Victims usually meet traffickers in person, online or through mutual friends or acquaintances. Recruiters identify the vulnerabilities of potential victims, such as the desire to be loved or to belong, or an addiction to a substance. They may shower victims with love or entice them with the promise of a glamorous life. They could promise money, brand name clothes, work or education, financial aid for their family, etc.
Traffickers approach potential victims in many ways, including
pretending to be a potential love interest, friend or sponsor
posting newspaper or Internet ads for jobs and opportunities
threatening or kidnapping them
connecting with them over social media
sale by family
seduction and romance.
Who are the most vulnerable people in your school?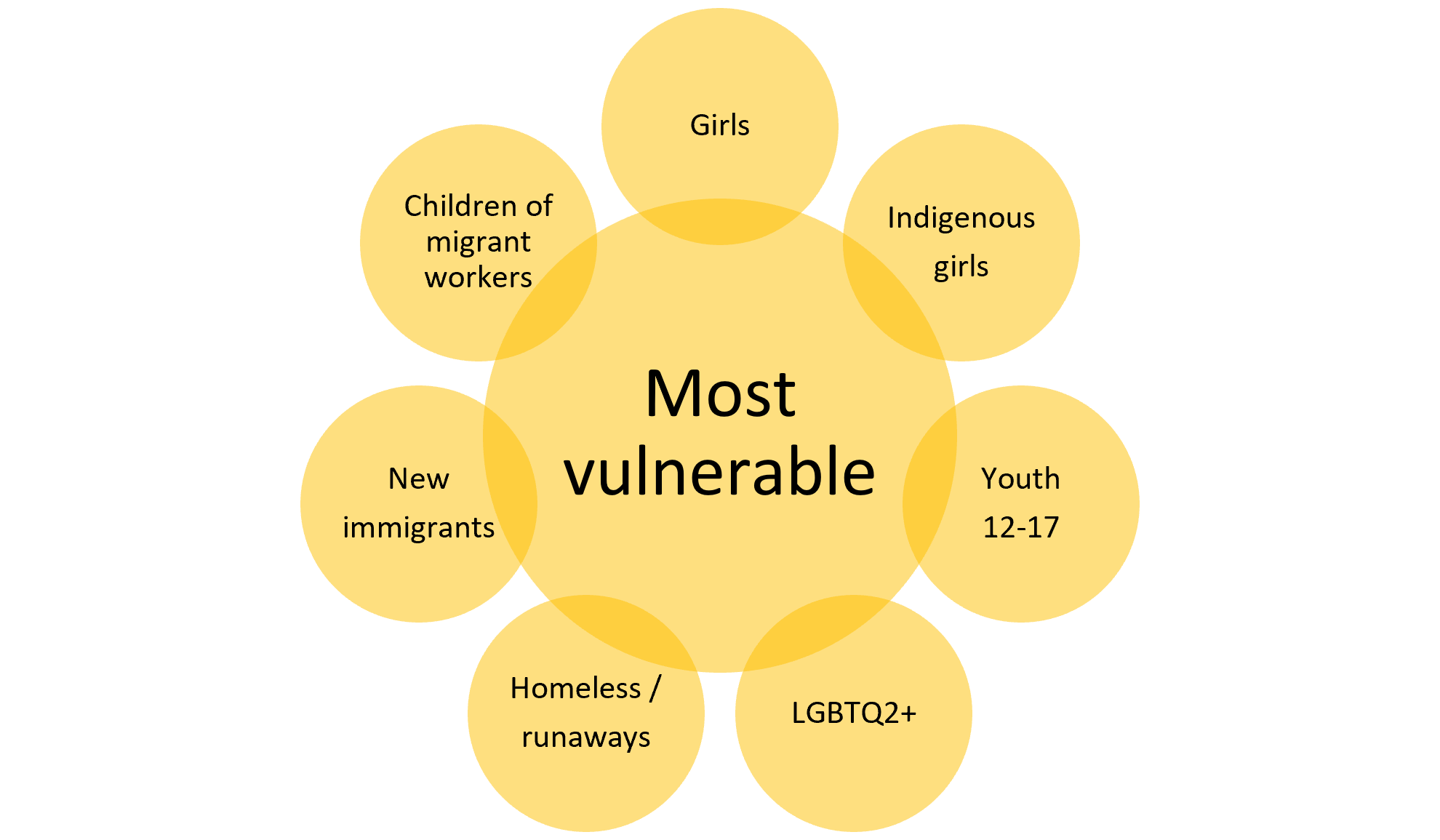 People with addiction, mental health issues and developmental disabilities are also at higher risk.
Physical, mental, emotional, and spiritual abuse happened, and continues to happen, to children and youth who were removed from their communities. This makes them vulnerable to sex traffickers who target the homeless or people who do not have secure housing, those struggling with poverty and those with mental or physical disabilities.
'Sex traffickers' prey on low self-esteem, feelings of abandonment and hopelessness and a lack of resources or employment, but young people who do not have any of these issues also fall prey to sex traffickers' grooming tactics. The targeting of Indigenous women and girls for sex trafficking can occur online, in public places or within families.
What are some of the warning signs of human trafficking?
Noticing the Signs (Part 2 – Aurafreedom.org)
What you might see
Increase in school absences/bathroom breaks
Returns from lunch hungry
Drop in grades and withdrawal from social activities
Tattoo of boyfriend's name, gang symbols/colours, tattoo branding
Change in friends, becomes labelled as promiscuous by teachers/colleagues and experiences slut-shaming from peers
Drug and/or alcohol use/misuse/abuse
Change in attire/expensive clothing, different hairstyles/manicures
Carrying multiple phones with blocked numbers, taxi numbers stored
Avoids eye contact
Can be fearful, anxious, depressed, submissive, tense, nervous, paranoid, experience extreme mood swings
Exhibits unusually fearful or anxious behaviour regarding law enforcement or other figures of authority
Becomes protective of siblings or other loved ones
Lacks health care, appears malnourished, signs of physical abuse like cigarette burns, bruises, etc
What you might hear
Makes references to boyfriend (often older) as "Daddy" or self as "mama" or "baby"
Refers to friends as "wives, sisters" being part of a "stable"
Speaks about having to make a quota or "bill"
Talks about being in The Game, The Life or "telly time"
Makes reference to certain websites
Overheard describing how much money they make
Change in lingo in general
Speaks about hanging out in hotels and Airbnb's
Talks about future plans with intimate partner including quitting school, getting married, buying a home
Uses lingo/terms by those "in the Game"
Inability to clarify where they are staying / their address
Loss of sense of time
Has numerous inconsistencies in their story
Internet Safety – General Red Flags (Part 3 – Aurafreedom.org)
When someone doesn't provide much information about themselves but wants to know everything about you.
Wanting to keep all exchanges a secret - going private, talking on Snapchat, vanishing modes on Messenger/Instagram - "Are you alone?"
"I know a way you can earn money fast." If something seems too good to be true, it probably is; trust your instincts.
Wanting to meet up too suddenly, especially in isolated or sketchy places; insisting that you go alone.
Asking for nude photos fairly quickly or sending nudes to you.
Stalker behaviour (e.g., ridiculous amounts of one-sided messages or liking all of your pictures in what seems like a second).
What are some best practices?
Follow board policies, procedures, protocols and police protocols.
Respond to the student but don't react to what they are disclosing.
See to the person's immediate basic needs: drink, food, warmth, weighted blanket, physical and emotional safety.
Use an interdisciplinary team approach (crisis intervention, safe school team).
Assume a non-judgemental approach in supporting the student.
Centre the focus on student/family.
Be mindful of your own emotions and biases.
Be mindful of your own power, position and privilege.
Offer to stay by their side until they are comfortable to be alone OR until they receive proper support.
General Tips and Student Case Studies
General Tips and Considerations
Be mindful that students involved in human trafficking at any level are sensitive, traumatized and in need of your help. All communication is critical for their overall sense of security, and it is important to be mindful of your facial expressions and body language. Provide specific cultural and linguistic support for students who have intersectional identities, are racialized, indigenous and/or marginalized.
Remain non-judgmental.
Choose your words and actions carefully and sensitively.
It is important for those who are disclosing information that their experiences and the personal information they divulge are validated and taken very seriously.
When speaking with the individual, be fully present to the sensitive nature of the content being shared (try not to get distracted by phones, people, sounds etc.).
Remain with the student to ensure comfort and safety until you are no longer required.
Refrain from providing dangerous worst-case scenarios.
Meet the immediate physical needs of the student in a safe space (offer snacks or beverages, warm clothing/blanket, stuffed animal etc.).
Have grounding and sensory tools available (weighted blankets, fidget toys etc.).
Consider including a social worker or other supportive person (favourite teacher, trusted adult) to support/comfort the student when appropriate.
Create a safe space for the student to share and talk at their own pace.
Respect the personal space of all involved.
Include them in decision-making where possible.
Be aware of the fear of deportation.
Become aware of local resources that can provide support to survivors of human trafficking and those at-risk.
Follow up.
How to use the Survivor Informed Case Studies
Suggestions for use in a proactive and/or reactive approach for all scenarios.
Student – use with students at age-appropriate levels
engage student councils in conversations on what to watch/look for
support students after an incident has occurred at school
invite student input to suggest additional considerations.
develop a student safe response for anyone experiencing grooming or trafficking.
Staff – use with school staff at divisionally (P/J/I/S) appropriate levels
share with individual teachers to modify for class discussion on human trafficking.
use at staff meetings in proactive/reactive sessions
provide staff with important warning signs and evidence of trafficking and grooming.
Provide staff with strategies for immediate student support in response to disclosure.
Parents – use individually or with School Councils as appropriate.
facilitate discussions with School Council on issues to be aware of regarding human trafficking abuse.
provide parents/guardians with information on important warning signs and evidence of trafficking and grooming.
support parents/guardians whose children are involved with HT (child who was harmed/who caused the harm)
System – school or board approach to addressing human trafficking.
include as part of school planning for professional learning and/or setting school goals
use of case studies with senior staff or at system level meetings as a support for similar issues being experienced in schools.
use at P/VP meetings to develop action plans and strategies for system approach for addressing of human trafficking.
Case Studies
Age: 8
Grade: 3
Pronouns: she/her
Age: 16
Grade: 11
Pronouns: She/Her
Age: 18
Grade: 12 (repeat year)
Pronouns: She/Her
Age: 14
Grade: 9
Pronouns: she/her
Age: 18
Grade: 11
Pronouns: they/them
Age: 17
Grade: 12
Pronouns: he/him
Age: 17
Grade: 12
Pronouns: she/her