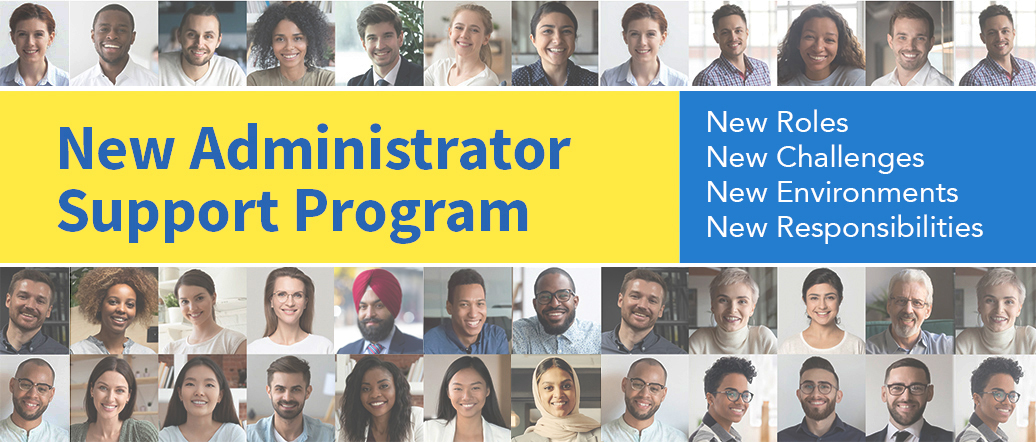 Who?
This series of professional learning opportunities is offered to newly appointed vice-principals and principals from anywhere in the world. Priority will be given to new appointees for 2020-2021. However, if there is space available, appointees will be considered for new appointees from the 2019-2020 school year.
What?
Through a series of professional learning opportunities which will embed equity and anti-oppressive perspectives, participants will develop skills to support them in their work as school leaders. Specifically, training sessions are planned on the topics of facilitating adult learning and coaching. Additionally, participants will collectively identify topics for monthly facilitated learning sessions. Through discussions with experienced principals and vice-principals, facilitated leanring sessions and networking opportunities participants will address challenges and recognize opportunities as they move through their first school year as administrators. Finally, each participant will have access to a set amount of coaching hours with one of the experienced school leaders.
Each participant will receive copy of When Mentoring Meets Coaching as well as the accompanying laminates for the Foundational Coaching Training.
Foundational Coaching
The Foundational Coaching Skills workshop will be delivered in two half-day sessions by Kate Sharpe. The following elements will be covered through this training.
Introducing the coaching model, basic coaching skills, principles, and tools.
Developing concrete coaching skills for communicating and facilitating conversations with increased attention and intention.
Developing coaching skills for supporting mentee learning and growth through the use of impactful questions, deep listening and meaningful feedback.
Engaging in coaching practice: demonstration coaching, peer coaching with guided observation, and reflection.
Setting intentions for key areas of learning and the integration of coaching skills within leadership.
Follow-Up: Virtual Roundtable - Integrating and Sustaining (Winter 2021)
60-minute online consolidation session.
Designed to support integration of learning and further coaching practice.
Adult Learning Principles
The Critical Learning Consortium will lead a workshop to support the understanding of adult learning principles. This will support new administrators in their roles as they are called upon to effectively deliver professional learning to staff and frequently lead meetings.
Monthly Sessions
Monthly half-day sessions will be held beginning in October. The first session will be dedicated to orientation and identification of topics of interest for participants. This will also be an opportunity to get to know the project lead and the five facilitators.
Subsequent topics for monthly sessions will be identified with input from participants in such a way that we are being responsive to the needs of the group. We will also consider the different profiles of the participants, both in terms of experience and school demographics. As needed, we will bring in experts to lead some learning on those topics, for example, unconscious bias. Topics covered can include any job-related themes be they managerial or leadership based.
Coaching
Each participant will be paired with a facilitator who will act as a coach for the duration of the program. The pairing process will take into account participant preferences and level of comfort with the facilitators. The nature of the discussions between the participants and the facilitators will be confidential and they will not report back any discussions with OPC or boards. They will share with us general topics that are discussed to help inform the themes for the monthly learning sessions.
Each individual will have access to between six and ten hours of individual coaching based on their needs.
Where?
Given the current pandemic crisis all of the sessions will be virtual. It is our hope that by the end of the school year, we are able to bring the group together for a face to face meeting or a blended session.
When?
Three full day sessions in October, November and December.
October 29
Program overview
Orientation
Introductions
Needs analysis
Adult learning principles
November 17
Foundational Coaching Skills (part 1)
Professional Learning Network
December 17
Foundational Coaching Skills (part 2)

Professional Learning Network
Half day sessions will be held in January to June. Dates will be determined with input from participants.
While "live" participation is preferred, the sessions will be recorded for those who cannot attend.
How much?
Actual cost of program is $1560. The OPC will subsidize Member participation. As such, the cost for Members will be $750 plus HST.
Non-OPC members can participate in the program provided there are still spaces available after October 15, 2020 at the cost of $1560 plus HST.