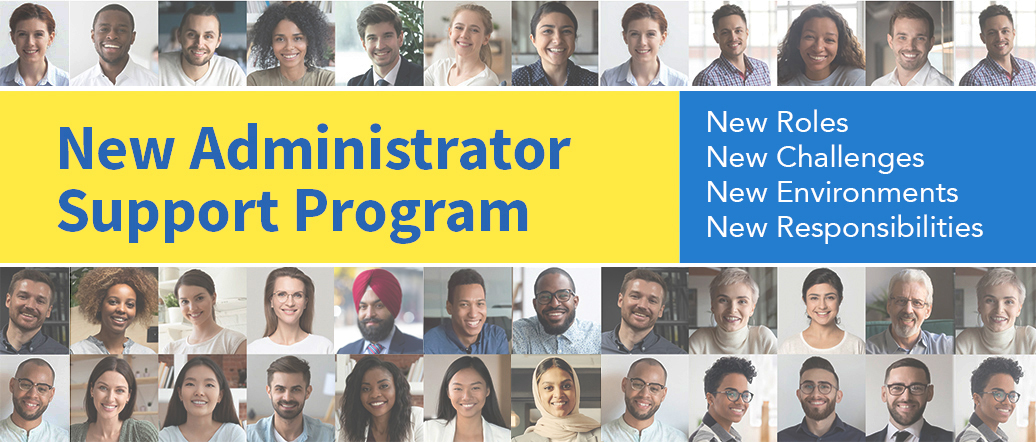 This series of professional learning opportunities is offered to newly appointed vice-principals and principals from anywhere in the world. The program will be founded on an inquiry approach with a dual focus. Each component of the program will enable participants to become more confident in their decision-making skills in all aspects of their work as school leaders. Additionally, participants will develop self-reflective strategies to identify racist and colonial practices and work toward eliminating them.
Through discussions with experienced principals and vice-principals, facilitated learning sessions and networking opportunities participants will address challenges and recognize opportunities as they move through their first school year as administrators. Participants will collectively identify topics for monthly facilitated learning sessions. Finally, each participant will have access to a set amount of coaching hours with one of the experienced school leaders.
Eligibility
This program is open to newly appointed vice-principals and principals. We will create two cohorts within the program, one for principals and one for vice-principals.
Newly appointed vice-principals - If you have been appointed to the role of vice-principal anytime since September 1, 2022, you are eligible to join this program until the end of September or join the cohort in January.
Newly appointed principals - If you have been appointed to the role of principal from a vice-principal position or from a teaching position anytime since September 1, 2022, you are eligible to join this program beginning in September.
Affinity groups
Dependent on registration, we will provide participants with the option of creating affinity groups for small-group discussions. An invitation will be shared once registration has closed. Those who join the January cohort will be able to choose to be added to an existing affinity group.
Session Content
Topics will be determined two months ahead of each session to continue to be responsive to needs of the group and may include adult learning principles, dealing with difficult conversations, equity leadership, special education, budgeting, staffing, and working with unions.

3-hour sessions will feature content experts or experienced principals from around the province.

90-minute sessions will include opportunities for discussion in large or small groups amongst participants, and occasionally with experienced leaders.
Participants will have access to a month at a glance resource to support in medium and long term planning as a vice-principal or principal.
Mentor-Coaching Component
Each participant will be paired with a facilitator who will act as a coach for the duration of the program. The pairing process will take into account participant preferences and level of comfort with the facilitators. The nature of the discussions between the participants and the facilitators will be confidential and they will not report back any discussions with OPC or school boards. They will share with us general topics that are discussed to help inform the themes for the monthly learning sessions.
Each individual will have access between 6 and 10 hours of individual coaching based on their needs.
2023-24 Session Dates
October 21, 2023 from 9:00 a.m. - 12:00 p.m. EDT (3-hours)
November 18, 2023 from 9:00 a.m. - 12:00 p.m. EST (3-hours)
December 14, 2023 from 3:45 p.m. - 5:15 p.m. EST (90-minutes)
January 20, 2024 from 9:00 a.m. – 12:00 p.m. EST (3-hours)
February 22, 2024 from 3:45 p.m. – 5:15 p.m. EST (90-minutes)
March 23, 2024 from 9:00 a.m. – 12:00 p.m. EDT (3-hours)
April 25, 2024 from 3:45 p.m. – 5:15 p.m. EDT (90-minutes)
May 18, 2024 from 9:00 a.m. – 12:00 p.m. EDT (3-hours)
June 13, 2024 from 3:45 p.m. – 5:15 p.m. EDT (90-minutes)
Cost:
Members and Associates rate $850 + HST
Non-Members rate $1,500 + HST
*Please note the following:
Registration closes Friday, October 6, 2023
You are signing up for all virtual session dates.
This program will run on sufficient enrollment. We will notify you after registration closes to confirm and send a Zoom Meeting link for you to access the sessions.
There are no assessments or formal completion criteria for this program. If you have any questions, feel free to contact learning@principals.ca.
Terms and Conditions
Refund Policy
A full refund is available if you cancel up to two weeks before the start date, less a $50.00 non-refundable registration fee.
A $250.00 refund is available if you cancel one week before the start date.
There is no refund for cancellations after the start date.
A full refund applies when a session is cancelled due to low enrollment.
Interpretation Services Terms and Conditions
The Ontario Principal's Council (OPC) is committed to accommodating the individual needs of our Members, in accordance with the Accessibility for Ontarians with Disabilities Act and the Ontario Human Rights Code. Once a candidate has registered and paid the applicable registration fees for a course, the OPC will contract with an interpretation service of its choosing and will cover the fees and expenses related to interpretation services in accordance with its contract arrangements with the interpreter. The candidate is welcome to provide a list of preferred interpreters for us to consider, but OPC retains the discretion to choose the provider of these services.

As the OPC is required to comply with the cancellation policy specific to each independent interpreter, it will communicate the cancellation policy to the course candidate in writing. A candidate seeking to cancel their participation in an OPC course must comply with the interpreter's cancellation policy and be respectful of the associated timelines. Candidates will be held responsible for cancellation fees applied as a result of missing timelines for cancellation.

OPC's standard refund policy will also apply to all cancellations.